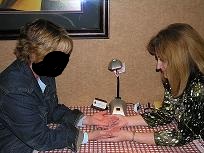 Sonia is a gifted psychic and intuitive reader, healer and hypnotherapist. Born in Ukraine under Soviet rule, Sonia relocated to Calgary in 1982. She first discovered her intuitive gifts as a teenager, but there was little tolerance, or even interest, in the USSR for such instincts and Sonia was discouraged from pursuing a career as a healer. Instead, she followed the much more acceptable path of becoming an information technology (IT) professional.
Although Sonia continued her training and career as a computer science specialist, eventually she returned to her true calling, concentrating on the healing arts and helping people through her readings. During a session, which Sonia can conduct in person or by phone, she reads the clients' energy, helping them to release negative blocks and putting them on a path toward greater self-realization.
With compassion and warmth, Sonia teaches people to access the divine joy that is within each of us. While Sonia does not literally predict the future, she lets her clients know what she sees ahead for them, guiding them to make better choices in their present and future lives. Her clients appreciate her gentle yet straightforward style and report a very high level of accuracy in her readings. Because of her guidance, especially during challenges or turning points, Sonia's clients find a fresh awareness of their own potential and are better equipped to make positive decisions for the future.
"I consider it an honor to be a conduit for spiritual guidance and change," says Sonia. "It brings me great joy to be able to help people recognize how they are holding themselves back and then find positive ways to change."
Read client testimonials.
View the full list of services.
Contact us with your question.